Tech Support Intervention – Shibboleet
Be sure to read the actual post after the comic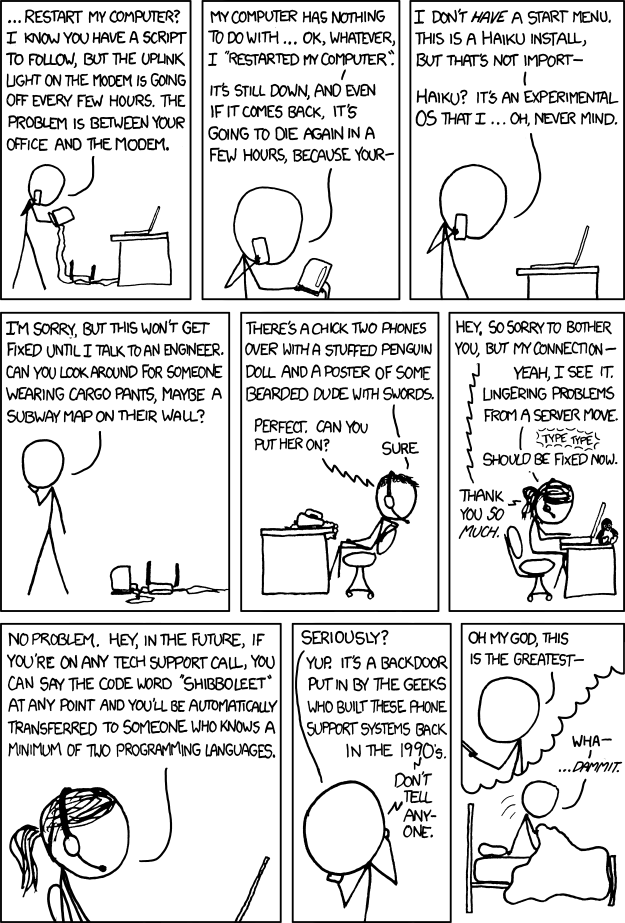 Man….I so wish that were true…
My parents' internet connection didn't work and I was called in for an "Intervention".
Basically they were taken through the whole stop the computer, start the computer, check Control Panel, etc. process.
So they called me over. Waited 5-10 minutes to get an actual person on the line, specified name and address etc and then handed the phone over to me:
Me: Hello, this is Cristian

TechSupport: Hello, can you tell me what error appears when you try to connect to…

Me: (cutting him off in mid-sentence) Let's skip the formalities. Tries on two different computers/network cards and cable coming into the home has no Link. Please check your managed switches for any configuration issues or get over here and plug it back it.

TechSupport: Ok. We'll investigate and call you back when we know more about the issue.
So that was all I think 40-ish seconds.
I didn't try saying "Shibboleet" but I doubt that would have worked. And even though I may not have been too friendly I gave him clear information (no link), showed him I put in some effort into resolving the issue (tried different computers/NICs), and saved both me and the tech support guy a lot of time.
Don't be afraid to assert yourself, things can go much quicker!
* On the other hand I understand tech support is stressed out sometimes. When a customer opens an issue for an application I work(ed) on and just says "It doesn't work" I feel like killing somebody. Give me more information, show me you gave it some thought and/or effort like trying different pages or buttons. Give me a screenshot or the exact error text if one was visible in the application.